Paper & Board Monitor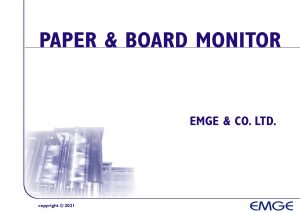 PLEASE CLICK ON THE ABOVE IMAGE FOR TABLE TEMPLATES
(HISTORICAL TREND CHARTS ARE ALSO PROVIDED FOR EACH GRADE, TOTALING AROUND 30 SLIDES)
The EMGE Paper & Board provides monthly data on the following.
Market Volumes (Consumption)
for:
Graphic Papers
Packaging Board
Corrugated Case Materials
Tissue
Other P&B
Total Paper & Board
in:
UK
West Europe (including UK)
Prices for Paper & Board grades can be found in the Monthly Price Monitor.
For more information, please contact us by email (post@emge.com) or telephone (+44 1872 581000).