Paper & Board Monitor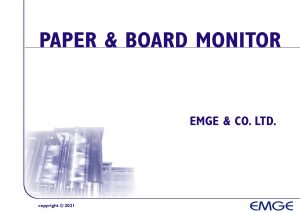 (Please click on the above report cover for some templates)
The EMGE Paper & Board provides monthly data on the following.
Historical trend charts are also provided for each grade, totalling around 30 slides.
for:
Graphic Papers
Packaging Board
Corrugated Case Materials
Tissue
Other P&B
Total Paper & Board
in:
UK
West Europe (including UK)
Prices for Paper & Board grades can be found in the Monthly Price Monitor.
For more information, please contact us by email (post@emge.com) or telephone (+44 1872 581000).