World Graphic Papers
'A unique, global and fundamental perspective on the prospects for this important and dynamic industry'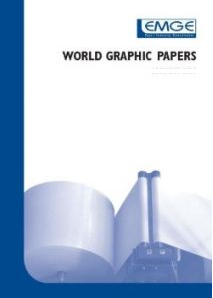 (Please click on the report cover for a Table of Contents)
The EMGE World Graphic Papers service covers Printing and Writing Paper & Newsprint paper markets worldwide. Forecasts are published twice per annum.
The EMGE WORLD GRAPHIC PAPERS service comprises:
EMGE World Graphic Papers forecast reports (2 pa)
Ad-hoc updates for subscribers
Data / analyses covered include:
Demand
Net Trade
Mill Output/Supply
Mill Capacity
Mill Operating Ratios
Leading Suppliers
For the following paper grades:
Coated Woodfree
Uncoated Woodfree
Coated Mechanical
Uncoated Mechanical
Newsprint
The reports are delivered in electronic (PDF) format and by post (printed copy).
For more information, please contact us by email () or telephone (+44 1872 581000).