Monthly Price Monitor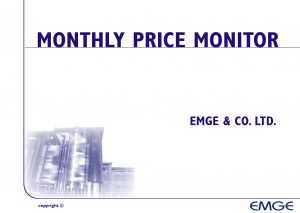 PLEASE CLICK ON THE ABOVE IMAGE FOR A REPORT SAMPLE
The EMGE Monthly Price Monitor provides the following price data for Europe (UK & Mainland).
PRICES (EURO/tonne & GB£/tonne)
Paper:
Standard Newsprint
Improved Newsprint
SC Magazine
LWC Magazine
MWC Magazine
Uncoated Woodfree Cutsize
Uncoated Woodfree Reels
Uncoated Woodfree Sheets
Coated Woodfree Reels
Coated Woodfree Sheets
Packaging:
Fluting
Test Liner
Kraft Liner
White Top Test Liner
White Top Kraft Liner
White Lined Chipboard (GD)
Folding Boxboard (GC)
Market data (volumes) for Paper & Board grades can be found in the Paper & Board Monitor.
For more information, please contact us by email () or telephone (+44 1872 581000).