Cutsize Benchmarking Survey
'A Benchmarking and Image Tracking Survey which highlights opinions among the Trade of the Cutsize Paper Mills and Mill Brands in Europe'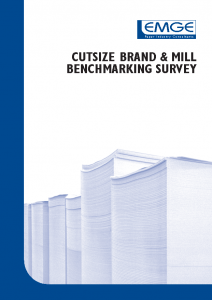 (Please click on the above report cover for a sample of the 2018 survey) 
This survey is performed annually for the primary sponsors of this multi-client study who comprise the leading paper companies in Europe.
The research focuses on Mill & OEM brands, Awareness, Factors of Importance and Product/Supplier Performance and provides a valuable insight into brand image, as well as the relative performance of each supplier.
The study involves over 300 telephone interviews covering Merchants, Original Equipment Manufacturers (OEMs) and Office Stationery Distributors (OSDs). The interviews are performed during the Spring months, across a range of countries in Europe.
In addition to this report, for an extra charge, Clients may optionally obtain a support service from EMGE, which can include:
a) Private Presentations
b) In-house workshops
c) Tailor-made analysis specific to your company
d) Database, supplied in Excel file format, covering anonymous individualised responses.
For more information, please contact us by email () or telephone (+44 1872 581000).