Cutsize Monthly Monitor
'Monthly intelligence on the Cutsize Paper Markets'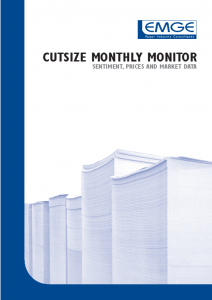 (Please click on the above report cover for a sample copy)
This unique monthly service provides you with a fast and current view of how Europe's Cutsize (Copy/Office) Paper market is moving.
EMGE conducts monthly interviews with European merchants, mills and other industry contacts to provide the very latest data and information on movements in the Cutsize Paper market, covering both Western and Eastern Europe. Global Cut Size paper demand (by region) and Global Cut Size paper prices are also provided.
EMGE publishes the results into a simple set of easy-to-use charts and tables, including:
Demand by Country
Delivery / Lead Times
Buyer / Merchant Inventories
Paper Prices (Premium, Standard & Economy grades)
Short Term Business Outlook (Sentiment)
Mill Shipments
Mill Capacity
Mill Operating Ratios
Trade (Imports & Exports)
To order your copy of this monthly service, please contact us.
The reports are delivered in electronic (PDF) format and by post (printed copy).
For more information, please contact us by email () or telephone (+44 1872 581000).