World Printing & Writing Papers
'A unique, global and fundamental perspective on the prospects for this important and dynamic industry'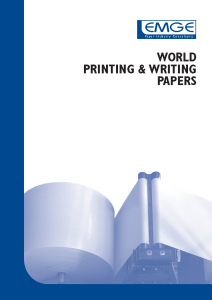 (Please click on the report cover for a 'fuzzy' sample)
The EMGE World Printing & Writing Papers service covers Printing and Writing Paper markets worldwide. Forecasts are published twice per annum (in Spring and Autumn).
The EMGE WORLD PRINTING & WRITING PAPERS service comprises:
EMGE World Printing & Writing Paper forecast reports (2 pa)
Ad-hoc updates for subscribers
Data / analyses covered include:
Demand
Net Trade
Mill Output/Supply
Mill Capacity
Mill Operating Ratios
Leading Suppliers
For the following paper grades:
Coated Woodfree
Uncoated Woodfree
Coated Mechanical
Uncoated Mechanical
The reports are delivered in electronic (PDF) format and by post (printed copy).
For more information, please contact us by email (post@emge.com) or telephone (+44 1872 581000).