Global Monthly Monitor
GLOBAL DATA FOR ALL PRINTING & WRITING PAPER GRADES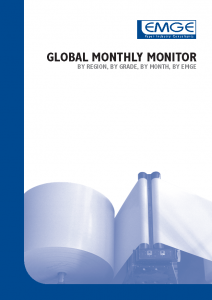 (Please click on the above report cover for a sample copy)
The EMGE Global Monthly Monitor gives you the full global picture every month, with paper market data presented in 80 charts and 800 data points (see below). It also has an extensive commentary section (around 15 -20 pages) covering the paper market and market drivers such as the economy, publishing, advertising and printing.
The Monitor is tailored to be easy to use, whether you need all 800 data points or only a selection that affects you directly. If you want the full detail, it is obviously there, but we have also made it easy for you to use. If you want the overview – we have prepared one. No need to work out which way the market has been heading – we have done it for you. If you want to know the macroeconomic and paper-specific influences – we have summarised them for you.
In short, you can have monthly access to comprehensive and detailed global information – together with a distillation of the issues that affect you directly. The easy way to keep up with all your markets.
Exhaustive Paper Market data (tonnes and percentage growth rates) include:
Demand
Mill Shipments
Mill Capacity
Mill Operating Ratios
Prices
for:
Coated Fine Paper
Uncoated Fine Paper
Coated Mechanical Paper
Uncoated Mechanical Paper
in:
Western Europe
North America
Big Asia (China/Japan/Korea)
Rest of World
World Total
The reports are delivered in electronic (PDF) format.
For more information, please contact us by email () or telephone (+44 1872 581000).